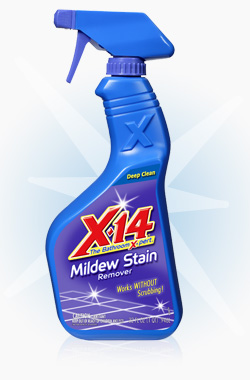 I don't know how you feel about cleaning the bathroom, but when I walk into mine I just wanna toss a bomb in there and start over! I'm pretty sure that the person who decided what materials and colors to use in there had never actually tried to clean a bathroom in his life…and the person who installed the tile in the shower…well let's just say I hope this isn't his day job! One of these days I hope that we'll get the chance to re-do my bathroom… but until then I'm so thankful for products like X-14!
When I got offered the chance to review
X-14 Mold & Mildew Stain Remover
I jumped at the chance. I've used X-14 products before and love them. X-14 makes my life so much easier. I loved being able to just spray down my tile and walk away. There are other products out there that claim that you can just spray and walk away…but none of them hold a candle to X-14. This stuff really works!
X-14 Mold & Mildew Stain Remover
The Quick Way for Busy Moms to combat Mold and Mildew Stains
Moms know mold and mildew stains aren't just a bathroom problem – they can appear anywhere. X-14 can help!
How it Works:
X-14 Mold & Mildew Stain Remover
effectively removes mold and mildew stains without scrubbing, keeping surfaces stain-free for up to two weeks.
Key Features:
Removes mold and mildew stains two times faster than the leading competitor.
No scrubbing required
Safe for use on sealed grout, vinyl and plastic surfaces when used as directed.
Where to Use:
X-14 Mold & Mildew Stain Remover
can help fight problematic stains in all areas of your home, boat or RV – from the bathroom and kitchen, basements and even on items stored below your boat's deck.
Well I don't have a boat or RV, but this stuff is pretty handy around the house. ;-)
Thanks to
http://www.x14brand.com/
and
http://www.momcentral.com
as well!