This afternoon DH was getting ready to mow our grass and I noticed the sky looked rather yucky, so I went out in front of our house to see what I could see and a guy drives past and tells me there is a funnel cloud behind my house!
So I go back there and sure enough, there is!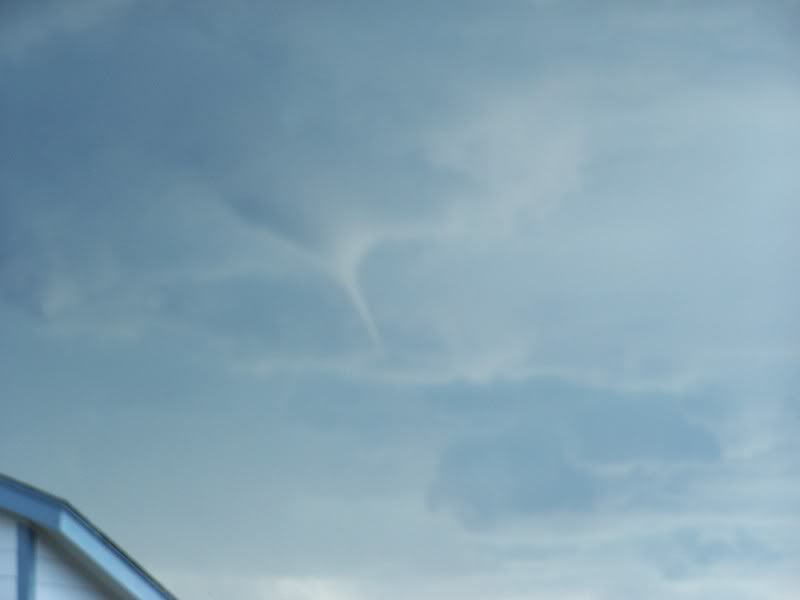 At first it didn't look like much, but after a bit we noticed that there seemed to be a see-through part that extended towards the ground. So I ran upstairs and watched some more. It eventually stirred up some dirt so you could really see it.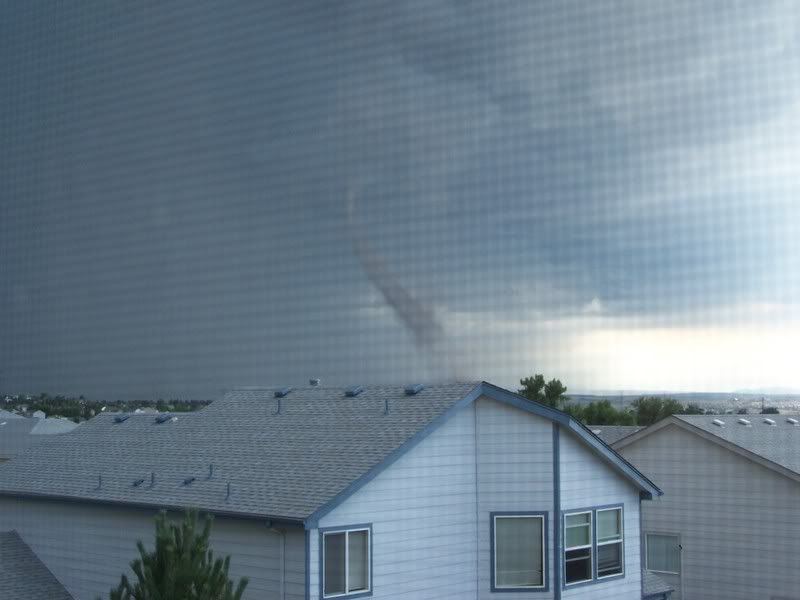 From what we could see the tornado wasn't really doing much, and it was not going very fast. It looked like it was about to give up many times before it finally did give up after about 20 minutes.
I guess I must have made a mistake in showing this to Darly because it seemed to upset her quite a bit. She started packing some clothes & her favorite toys to go down into the basement. I wanted to show her the tornado so she could see what one that you didn't have to be worried about looked like. I tried explaining to her that DH & I wouldn't be sitting there at the window taking pictures if there was any reason to be worried about it. That didn't seem to work until sometime after it was over. She can now laugh about it, cuz her friend called to see if she was okay.
I have to admit that I haven't seen a tornado in person that was any larger that this one. There was a funnel cloud in Cheyenne once, but it never touched down. Although they sounded the sirens for it. (we don't have sirens in my town. They figure we don't get enough storms to pay for them.)
We did have a larger tornado in TX, but I never saw it. DH & I were having dinner at a friend's house and looked outside at the storm wondering if we should go put our car in our carport so it wouldn't get hit by hail. Meanwhile there was a tornado hitting DH's office and a few other buildings near it.
Damage to his office wasn't too bad...it just knocked out a few windows. But since a new office was already under construction, DH had to survive the winter in his office with plywood over the window.
OH! DH never mowed our grass today. :-/